FACE 4WARD - MOISTURISER
MATTE-EFFECT GEL MOISTURISER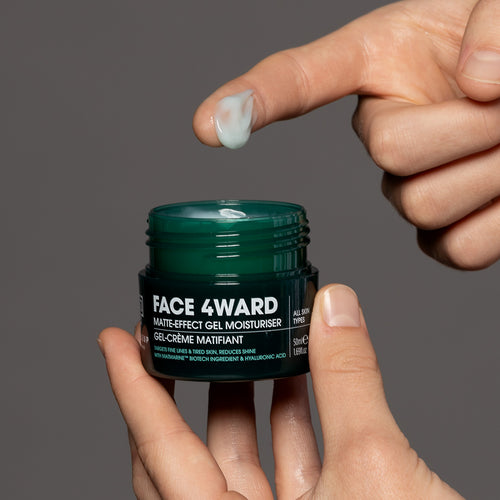 The perfect daily moisturiser for oily skin – get zero shine but maximum hydration.
Why it works...
• Recommended by GQ Grooming Experts as one of the best men's moisturisers to give dull skin an instant lift.

• Designed with biotech ingredients, such as Matmarine to target oil and shine, which helps give skin a supple, youthful glow.

• A lightweight, gel-based formula that delivers all-day natural mattified results: replenishing tired, dehydrated skin without leaving a greasy feel.

• Formulated for all skin types. Best suited to those with normal, combination and oily skin.

Need help finding the best products for your skin? Try our simple skincare routine builder.

Do you find skincare terms confusing? Our skincare glossary offers easy definitions to the most frequently used terms.

Shakeup Promises
EASY RETURNS 14-day money back guarantee
FREE SHIPPING On higher value orders
AWARD WINNING FORMULAS Suitable for all skin types
5★ CUSTOMER CARE We aim to respond within 24 hours
BUY NOW, PAY LATER Instalments with Klarna

VISIBLE IMPROVEMENT IN DRY SKIN
SKIN LESS OILY AND SHINE FREE
WOULD USE THIS PRODUCT DAILY
QUICKLY ABSORBED INTO SKIN
Results observed in a 2-week user trial study on 50 individuals
HOW AND WHEN TO APPLY MEN'S MOISTURISER
Step 1 Always apply moisturiser to clean dry skin, after cleansing or serum. Twist open the cap and remove the inner lid.

Step 2 Gently dot the moisturiser over your face.

Step 3 Massage thoroughly into your face and neck until blended into your skin.

Step 4 Leave the product on the skin for a few minutes to be fully absorbed before continuing to apply your next product such as bb cream.

USAGE: A light weight, but super hydrating men's moisturiser, designed to deliver a non-greasy and refreshing finish for oily skin, leaving your skin feeling soft and supple. For optimal results, use our moisturiser as part of your daily skincare routine, after face wash, toner and serum, or it can also be used in isolation for a boost of hydration whenever your skin needs it. Suitable for daily use, both Day and Night.

SHAKEUP TIP: Struggle with sweaty skin post workout? Apply our matte-effect gel moisturiser after showering to clean skin to keep oil at bay all day!

KEY FEATURES OF OUR MEN'S MATTE-EFFECT GEL MOISTURISER
• A rich textured cream with a game-changing blend of ingredients that work to nourish and hydrate skin whilst controlling oil and shine.
• Specifically designed for men's skin, which is naturally thicker, oiler and more reactive than women's.
• Each 50ml moisturiser is packed with powerful anti-aging hydrating ingredients, such as hyaluronic acid to target wrinkles, fine lines and uneven complexion.
• 100% Vegan. Alcohol and Cruelty Free Formulations. Made in the UK.
Want to start using your anti-shine moisturiser as soon as possible? Check out our
delivery options
.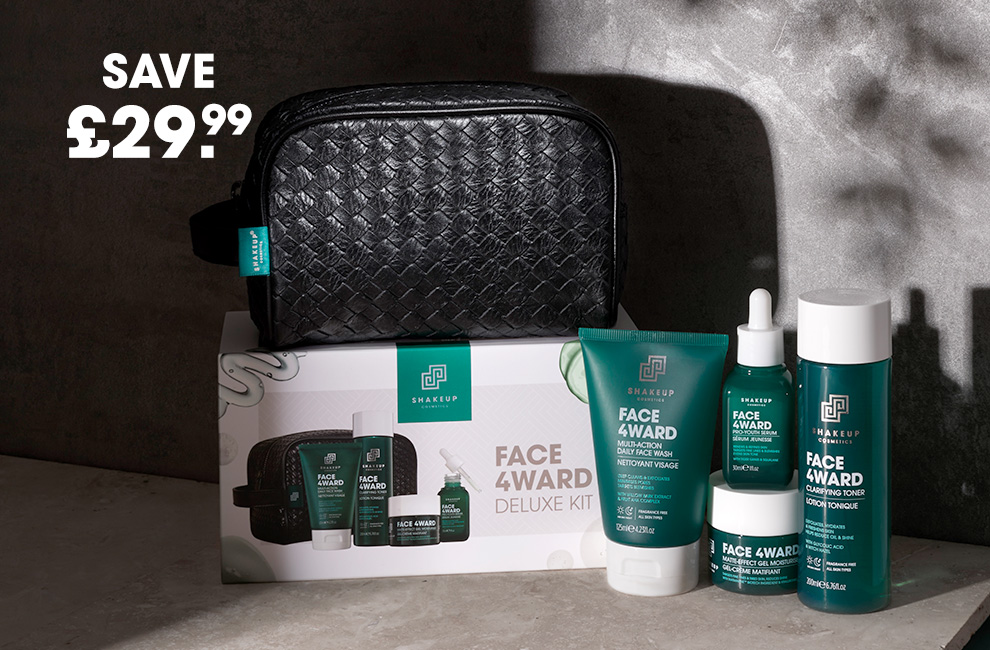 GET HEALTHIER SKIN IN 4 EASY STEPS
Our FACE 4WARD routine is designed to be easy to understand and simple to follow. Get the complete 4-step skincare set and save! All of the products are suitable for all skin types, and ideal for both day or night. There's no better time to step up your skincare game.
CLEANSE WITH
Face Wash, it gently removes dirt and targets blemishes.
CLARIFY WITH
Toner, it helps to reduce oil and shine.
RENEW WITH
Serum, it refines skin by targeting fine lines, skin tone and blemishes.
HYDRATE WITH
Moisturiser, it replenishes tired skin.
PLUS: Free luxury wash bag!
There's no better time than now to start looking after your skin.
GET THE GIFT SET AND SAVE
SKIN-LOVING INGREDIENTS
Matmarine™ biotech ingredient:
Controls your skin's oil and sebum levels. As a biotechnological active ingredient, it reduces sebum accumulation to improve the appearance of pores and shininess.
Shea Butter:
Nourishes, soothes and moisturises your skin. Its anti-inflammatory properties help to calm redness and irritation without leaving a greasy feel.
Glycerin:
Improves pigmentation and uneven skin tone. As a humectant, it's also moisturising whilst protecting against redness and irritation. Making it a perfect addition for men's sensitive skin.
Hyaluronic Acid:
Revitalises and replenishes your skins surface to keep it looking healthy. It is water-holding molecule which means it retains moisture and helps to improve skin texture.
See the full ingredients list