FACE 4WARD - FACE WASH
MULTI-ACTION DAILY FACE WASH
Gentle but mighty – banishes the daily dirt and grime for a clearer complexion.
Why It Works...
• Our multi-action daily face wash is specifically designed to cleanse men's skin, which is naturally thicker, oiler and more reactive than women's.

• Formulated with natural ingredients such as Willow Bark Extract and Fruit AHA Complex to gently exfoliate, deep clean pores and target blemishes.

• Suitable for all skin types including sensitive skin.

Need help finding the best products for your skin? Try our simple skincare routine builder.

Do you find skincare terms confusing? Our skincare glossary offers easy definitions to the most frequently used terms.

Shakeup Promises
EASY RETURNS 14-day money back guarantee
FREE SHIPPING On higher value orders
AWARD WINNING FORMULAS Suitable for all skin types
5★ CUSTOMER CARE We aim to respond within 24 hours
BUY NOW, PAY LATER Instalments with Klarna

EFFECTIVENESS IN SKIN CLEANSING
NOTICED A DECREASE IN BLEMISHES
WOULD RECOMMEND THIS PRODUCT
FOUND THE PRODUCT REMOVES EXCESS OIL
Results observed in a 2-week user trial study on 50 individuals
HOW AND WHEN TO APPLY FACE WASH
Step 1 Before use, twist open the lid to remove the foil seal and wet the face with water.

Step 2 Apply a coin-size amount of face wash to clean fingertips then gently massage over damp skin using circular motions. Avoid the immediate eye area.

Step 3 Rinse thoroughly with lukewarm water or you can remove the excess with a damp wash cloth.

USAGE: Excess oil? Clogged pores? Irritation? Blemishes? Dead skin? A bar of soap just won't cut through the dirt. Our daily face wash is designed to improve skin health with one simple step. Suitable for daily use, both Day and Night. Use this cleanser as step 1 of your skincare routine.

SHAKEUP TIP: Always moisturise after face wash, especially if you have oily skin.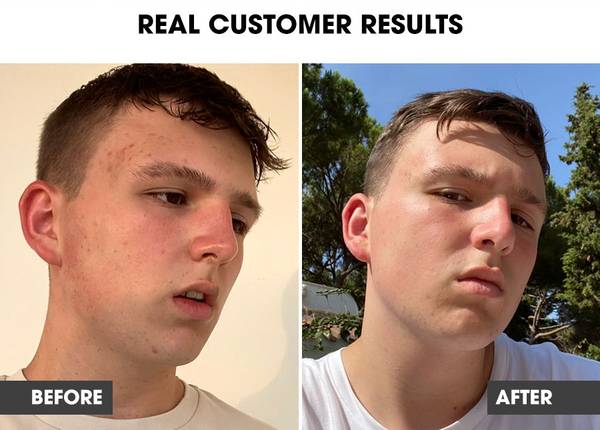 "Since using Shakeup's face wash my skin has cleared up massively and after every use my skin is left feeling smooth and refreshed. I would definitely recommend this product to anyone wanting to up their skin care routine!"
Charley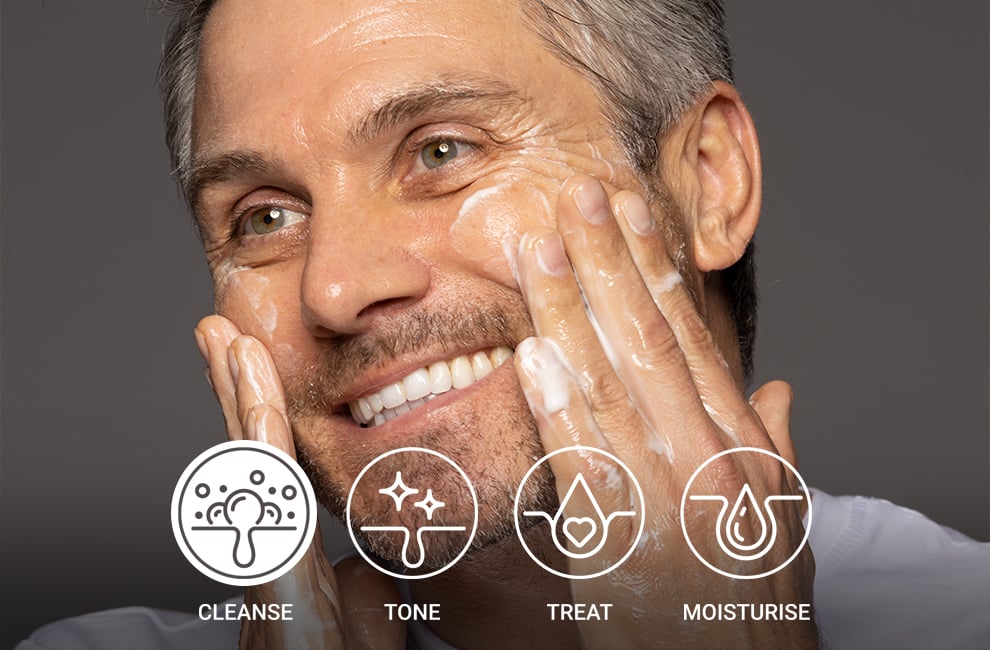 KEY FEATURES OUR MEN'S DAILY FACE WASH
• Powerfully cleanses and revitalises, whilst hydrating your skin.
• Designed for men's everyday use: preparing skin for shaving.
• Each 125ml Face Wash is packed with skin-replenishing ingredients to reveal fresh and smoother looking skin.
• 100% Vegan. Alcohol and Cruelty Free Formulations. Made in the UK.
Want to start using this product as soon as possible? Check out our
delivery options
.
GET HEALTHIER SKIN IN 4 EASY STEPS
Our FACE 4WARD routine is designed to be easy to understand and simple to follow. Get the complete 4-step skincare set and save! All of the products are suitable for all skin types, and ideal for both day or night. There's no better time to step up your skincare game.
CLEANSE WITH
Face Wash, it gently removes dirt and targets blemishes.
CLARIFY WITH
Toner, it helps to reduce oil and shine.
RENEW WITH
Serum, it refines skin by targeting fine lines, skin tone and blemishes.
HYDRATE WITH
Moisturiser, it replenishes tired skin.
PLUS: Free luxury wash bag!
There's no better time than now to start looking after your skin.
GET THE GIFT SET AND SAVE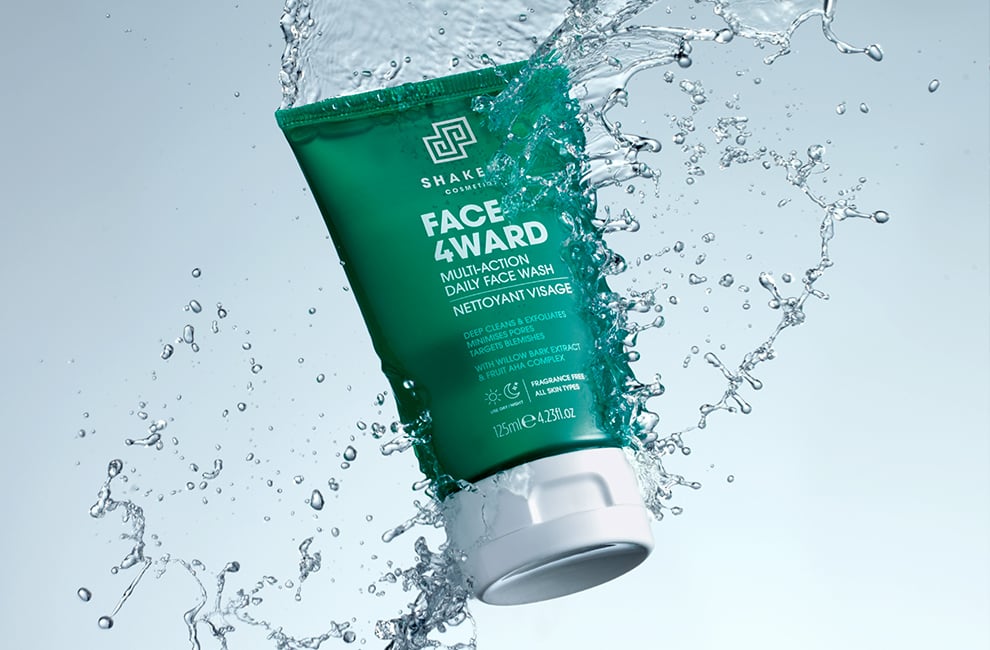 SKIN-LOVING INGREDIENTS
Willow Bark Extract:
Aids cell regeneration to reveal a clearer complexion. A natural source of salicylates can help to clear pores, alleviate acne and even skin tone.
Fruit AHA Complex:
Stimulates skin cell renewal. Gently exfoliates to penetrate dead skin cells, smooth skin and improve the appearance of dark spots.
Aquaxyl™:
Boosts circulation of moisture throughout all skin layers. As a super hydrator, moisturising and healing benefits protect against damage to your skin barrier.
Fragrance Free:
Protects the skins overall health. This acts as an additional assurance for all skin types, because it helps to reduce the likelihood of irritation, sensitivity and reactive flare-ups.
See the full ingredients list